Walks Programme
A Map of South Wales showing where we walk within South and Mid Wales, can be found here.
Click on a link to find out further information on a day walk or weekend away. Most walks have links to 1:50000 Ordnance Survey Landranger maps of the area.
Winter Term
August 2012

Saturday 29th - Three Cliffs Bay

October 2012

Sunday 7th - Fan Fawr
Friday 12th - Dorset Weekend Away
Saturday 20th - Lord Hereford's Knob
Sunday 28th - Preseli Hills

November 2012

Sunday 11th - Pen y Fan
Sunday 18th - Gower Free Walk
Saturday 24th - Glamorgan Heritage Coast
Friday 30th - Dartmoor Weekend Away

December 2012
Spring and Summer Term
January 2013

Sunday 27th - Swansea Gower Walk

February 2013

Saturday 2nd - Usk Reservoir
Friday 8th - Rhinogs Weekend Away
Saturday 16th - Pen Allt Mawr

March 2013

Saturday 2nd - Bannau Sir Gaer
Sunday 10th - Rhossili to Port Eynon
Sunday 17th - TBC
Friday 22nd - Snowdonia Long Weekend Away

April 2013

Saturday 20th - Vice's Variable Vacation
Sunday 28th - Ystradfellte Waterfall Walk

May 2013

Saturday 4th - Amroth to Tenby
Map of South Wales
This is a map of South Wales marked by helpful red dragons to show where the areas we go are in this country. Click on the little red dragons or on the region to go to the walks page.
Links to these walks pages and the other places we go are also listed below.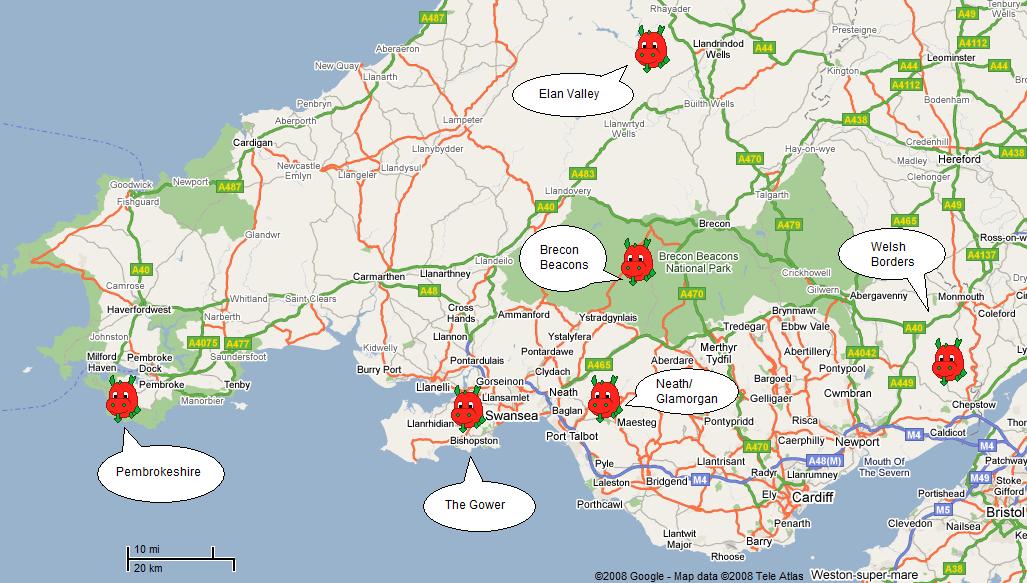 Areas we walk in
Here are links to the pages describing the areas that we have walked in:
Wales
England
Walks Grades
For safety and so that everyone knows what they are getting themselves into, all walks are graded. Everytime a walk is advertised it will be stated whether it is an A, B or C distance walk and a 1,2 or 3 difficulty walk.
Distance
A - Less than 8 miles (under 12.5km)
B - 8 - 12 miles (12.5 - 19km)
C - Longer than 12 miles (more than 19km)
Approximate height gain
1 - Less than 200 metres
2 - 200-500 metres
3 - Greater than 500 metres
If you are unsure of your ability, it is advisable to do a "A" walk before a "B" walk and a "B" walk before a "C" walk.
In any case, the walks marked with a * cannot be done before you have complete at least a "B" walk.