Swansea University Hiking Club
A quick announcement - if you'd like to come on any future walks, could you please sign up before the weekend of the actual walk if possible. This is so we can have better ideas of numbers for the walk and book the right size bus to take! you can turn up on the day but only if there is space. Thanks!
Next Walk - Pen y Fan - Saturday 3/11/2012
The next walk will be Pen y Fan in the Brecon Beacons, which is the highest peak at 886m but we start half way up. The twin summits of Pen y Fan and Corn Du were referred to as King Arthur's Seat. On a clear day you'll see Cardigan Bay, Carmarthen Bay, Swansea Bay, the Gower Peninsula, the Black Mountains, Exmoor and much of Mid Wales and the South Wales Valleys. Below is a panorama from last years hike. This was taken from the sister peak of Corn Du and Pen y Fan is on the right. Click on it for a larger view!
Link for photos from previous walks in the area: here
Last Hike's Recap
After 4 weekends of sunshine, we were unlucky that the walk in the Preseli Hills was rather wet. We still managed to have the views that extended to the sea and several groups of horses wandered over to admire us and say hello. We arrived in the pub a little early and spent several hours playing uno, bananagrams and just general drinking and relaxing in the company of a hollywood actor (Rhys Ifans - Notting Hill, Little Nicky etc) before heading back to Swansea.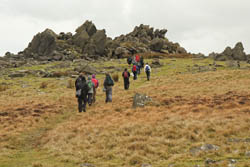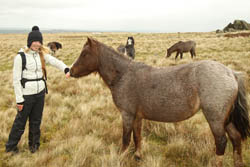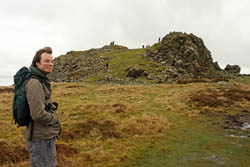 Upcoming Social Event
The next social will be a night hike on the 1st of November. Will be really pretty and if you would like you could even cross dress as this is the theme. We will meet outside Fulton House at 7 pm (the time had changed). Also, a reminder that we will be having a bonfire on the beach on the 5th of November. Where there will be food and fireworks. Some keep warm round our fire.
For more information, please checkout our website here or our facebook page here. We also have a Twitter account here.
Pickups for day hikes are: 9am Uplands (outside Sainsburys), 9:05am Student Village (at the bus stop on the main road, opposite Carvery) and 9:15am outside Fulton House. Please remember to bring the hiking basics of food, drink, waterproof jacket, warm layers etc on all day hikes. We aim to return to Swansea by 7-8pm.
We have walk sign-ups every Wednesday and Friday 12:30-1:30pm on the Coffee side of JCs. Come along and join us, they're also perfect for mini-socials!