Swansea University Hiking Club
Next Walk - Preseli Hills - Sunday 28/10/2012
The next hike on the calender is to the Preseli Hills in Pembrokeshire National Park. This park is the only coastal park in the UK. It does have one section that's not coastal - the Preseli Hills. This unique environment is steeped in history. You will see many standing stones in these hills, some are stone circles. Stones from here were used to construct Stonehenge. We'll finish in a pub called Tafarn Sinc in Rosebush.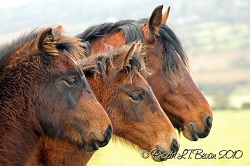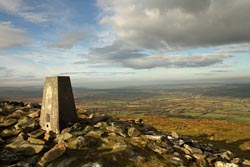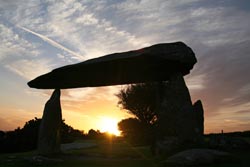 Link for photos from previous walks in the area: here.
Last Hike's Recap
Our last hike was Lord Hereford's Knob. This walk in the east of the Brecon Beacons was full of amazing scenery. The panorama below highlights the view we had from the ridge. Click on the image for a larger view!

Although the clouds look rather dramatic, the weather held and we spent the day under sporadic sunshine. We started in Three Cocks before walking through some fields and then through a forest. It was a bit slippery underfoot with the mud, but squelching noises kind of make it better...The last climb up onto the ridge was steep, but at least the heather provided a soft cushion during the breaks. On the way down the sun was beginning to drop and the golden light made the village of Talgarth seem very quaint and medieval! Sipping a welcome drink in the hotel bar was an excellent end to the day.
Upcoming Social Event
Our next social event is the first year and international representitive elections on Weds 24th Oct. This social will be a relaxed affair, with the chance to elect new committee representitives as well as knock back a few drinks in town. Meeting at 8pm outside Fulton House and we'll head to Wind St later on. The committee positions are: first year rep (open to those who are members of the hiking club for the first time) and international rep (open to those visiting Swansea from a university abroad).
For more information, please checkout our website here or our facebook page here. We also have a Twitter account here.
Pickups for day hikes are: 9am Uplands (outside Sainsburys), 9:05am Student Village (at the bus stop on the main road, opposite Carvery) and 9:15am outside Fulton House. Please remember to bring the hiking basics of food, drink, waterproof jacket, warm layers etc on all day hikes. We aim to return to Swansea by 7-8pm.
We have walk sign-ups every Wednesday and Friday 12:30-1:30pm on the Coffee side of JCs. Come along and join us, they're also perfect for mini-socials!